Crop Swap Sydney member Tony Tang is a well-travelled family man, who cultivates his own mushrooms and wears a suit to work.  As the son of an engineer and a good cook, gardening was always in his blood, but it was his interest in education, food insecurity and waste, that lead him to undertake a month long, $1 a day food challenge.  Not only did he succeed, but he also managed to raise $3,350 for the charity, Second Bite.

When I first learnt of Tony's exploits, I wondered what had influenced him to undertake such an experiment.  It seems that a trip to Borneo, initially cemented a few of his ideas.  He tells of a moment where he watched a group of kids play football with a pineapple.  The fruit was kicked and thrown until it fell apart, and was discarded as rubbish.   On the same trip, he observed surprised travellers realise that pineapples grew out of the ground, and not on a tree.  Though seemingly innocent, it's easily understood how these experiences could be seen as part of a bigger picture, and highlight the need for education towards food consumption, its origins and waste.
As the $1 a day food challenge took shape, Tony identified Second Bite as the recipient for his campaign funds and requested to spend a day experiencing the work that they do.  During this time, he witnessed uplifting moments where discarded food was rescued and re-purposed, but he also recalls confronting images of waste, which further validated the need for his crusade.
Before Tony began, he established a set of rules to abide by.  They went like this:
Prior to the challenge 10 weeks of garden prep were allowed.
Consumption of any home-grown produce was counted at a $0 rate.
Accepting free food as a gift was not permitted.
Food had to be swapped, foraged or earnt in exchange for work.
From day one of the challenge he learnt quickly, gathering excess from a friends disused citrus orchard and dumpster diving at Parklea markets.  Physically, he lost 4kg and unfortunately caught a bad case of flu.  Fortunately, with some creative cooking and strategic scavenging, a large batch of soup brought him back to good health. Throughout the month, it turns out that Tony was so meticulous and efficient in his efforts, that his average daily spend totalled just 86 cents.  This is particularly impressive as his home-grown crops failed due to extreme weather conditions at the time.  But Tony professes that he did not starve or waiver from his rules (I imagine due to his diligence and ingenuity).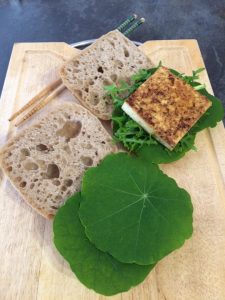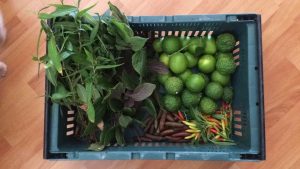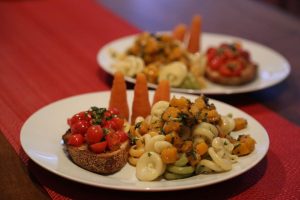 From left to right: 1. Tony's spicy Japanese inspired tofu burger with homegrown nasturtium and wild rocket. Dressed with Japanese sesame mayo and Sriracha added to taste. 2. Tony's bounty for swapping at a Crop Swap earlier this year. 3. Tony's tribute to the produce that he gained from swapping.  It included continental basil, sage, lemon thyme, parsley, cherry tomatoes and finger lime. Yum!

By the end of the campaign Tony had developed a rhythm.  His daily breakfast consisted of quick oats, soaked overnight in water and honey, which were then eaten cold the next day.  The oats and water were very cost effective and he swapped an excess crop of mint for the honey. Tony admits that this was not an initial favourite, but was something that he grew to love.
Since the challenge he has continued to live efficiently and has been an active member of the Crop Swap Sydney community, sharing his produce, knowledge and cooking advice.  There may even be a more ambitious challenge in the making.
To find out more about Tony's $1 a day food challenge you can find a series of podcasts documenting his journey here.  He also posts updates and relevant information via Teach a Man To Grow
---