Crop Swap Sydney member Sophia and her family have been working towards becoming self-sufficient for the past 4 years.  Their Turramurra backyard is a cleverly designed and integrated system which includes aquaponics, soil beds, chickens, ducks and bunnies.  It's the kind of magical place where kids can explore and experience a taste of farm life, but it's just outside the city. The 'homestead' has been lovingly grown from scratch but they are now starting to taste its delicious dividends.  Here Sophia tells us a little about her sustainable journey.
Tell us about your garden, it's systems and how it operates.
My husband and I are pretty lucky that we have a larger block (Approx 1200sqm) that was pretty much a blank canvas when we bought it. That being said, however, it has been a long hard slog over the last 4 years to try and overcome very poor and shallow soil. Today we like to think we are closer to our goal of becoming as sustainable as possible and making productive use of every square inch – the ultimate goal would be to become entirely self-sufficient and a mini homestead of sorts. At the moment we have 5 chickens and 3 ducks for natural pest reduction and fresh eggs, a soil veggie patch and a 3,000 litre Aquaponics System that we use to grow veggies and raise Silver Perch for eating. With both of us working and raising young kids our progress in the garden can be frustratingly slow – but when I look at how much we've achieved in 4 years, I can appreciate that we are actually getting closer to our goals!
So many times I have threatened to give up due to failed crops etc….. but if there is one thing you learn if you are committed to gardening…. its the virtue of patience and determination!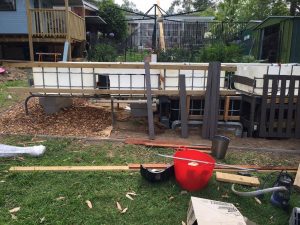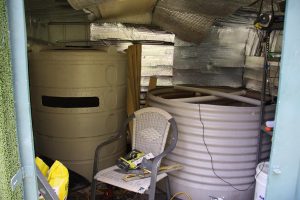 Building the aquaponics system
Do you follow any particular principles or employ specific techniques in your garden? i.e. Permaculture, companion planting etc.
Permaculture and sustainability would have to be the main ones. Waste not, want not!
How does your garden affect the learning and lives of your family?
The number one, most rewarding aspect of our garden is the education it provides for our children and the conversations it starts with visitors.
For example: Our Aquaponics system has taught our two eldest girls about the water cycle and (surprisingly) how absolutely vital bacteria are to the survival of the planet. Two different bacteria are required in the gravel beds to turn poisonous fish poo into amazing fertiliser for the plants. Then clean water goes back to the fish. If any pesticides or herbicides get into the system, everything will die.
It's really brought home to our entire family the importance of growing and buying organic produce as an investment in the health of our environment and our planet.
Even the chooks have taught our kids and our family amazing lessons about the cycle of life and the importance of treating animals well – none of us can eat caged, store bought eggs any more because they just don't compare to the freshness and quality you get from eggs from backyard chooks that are treated well and fed well.

I imagine that your garden is a talking point amongst visitors. Has it encouraged others to start growing their own fruit and vegetables?
I have actually been in contact with the pre-school that my kids went to, and we are currently arranging a field trip to our house for her current class! To me, this is true validation that what we have built is working – I hope that it will inspire a new generation of gardeners.

---
For Sydney specific gardening tips subscribe to our newsletter or join us in the Crop Swap Sydney Growing Support community.
Do you have a garden story to share? If so, we'd love to hear from you.  Please email us at hello@cropswap.sydney or contact us via the website form.