Firstly, a quick note to say that we are not affiliated with Vegepod but simply love to spread the word about great Australian companies, that produce well designed gardening products.  We also think they're pretty great for supporting community groups like ours.
To get Spring started, the kind people at Vegepod donated product to help one lucky Crop Swap Sydney member start a garden.  The competition required entrants to share a garden pest control tip with the community, and they did!  There were companion planting anecdotes, recipes and homemade deterrents galore.
One member even shopped at Vinnies in an effort to control white cabbage moths. "Last summer I pegged some reused ugly lace curtains around my raised bed to exclude the cabbage moth and it worked a treat. All hail Vinnies and ugly lace curtains😄"
Another raided her fridge and said "I've won the battle against slugs & snails with beer traps. They seem to love VB!"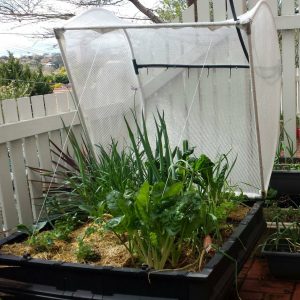 We have been using our Vegepod for a year now.  It has produced sweet potatoes, ginger, perfect salad greens, and is now sheltering seeds and seedlings until Spring is here to stay.
Our veggie garden is made up of both raised beds and a Vegepod, and we have certainly noticed the difference between the amount of watering required between the two.  Vegepods are built using a wicking bed system where a bottom reservoir holds water, allowing plants to absorb what they need, when and as required.  This method is so efficient that ours really only relies on rain to keep it topped up, but the pods are supplied with irrigation components which, when connected, mist plants (which we imagine would be even more effective).  The consistent availability of water doesn't cause 'wet feet' and has meant that our crops are less stressed and therefore produce a bumper crop.
Once the seedlings that are currently housed in our Vegepod are swapped, it will become a cosy home for bush cherry tomatoes. The sturdy cover, which also creates a micro climate/ wind barrier, will continue to deter hungry possums, slugs and caterpillars so that we can enjoy freshly picked toms for months to come, without having to share with garden residents. Oh and, for impatient and excited gardeners like us, the system was easy to put together using the online tutorial.
For a chance to win your very own Vegepod starter kit, you have one more day to enter (competition closes 7pm AEDST Wednesday 31st August 2016.)  Comment on the post on our page or within the group.  Stay tuned as the Winner will be announced on Thursday, the first day of Spring.
Otherwise you can find more information about Vegepods here.
---