Crop Swap Sydney member Natalie joined us at our Berowra swap on November 5th.  She baked and brought along these delicious lemon myrtle, honey and creme fraiche caramels which went down a treat.  They store well and are just a little bit different. She's kindly shared her recipe with us below.
Ingredients
⅓ cup (80g) crème fraiche or sour cream
25g salted butter
⅓ cup (120g) honey
⅓ cup (50g) rapadura sugar
⅓ cup (80g) water
½ teaspoons fine sea salt
1 teaspoons vanilla essence
2 teaspoons ground or finely minced fresh lemon myrtle (about 6 leaves)
Method
Line a small 10cm x 10cm pan or dish with baking paper.
In a small pot, combine the crème fraiche and butter over very low heat (keep an eye on it and if it produces anything more than a gentle simmer, remove it from the heat).
In a large saucepan, combine all other ingredients and allow it to boil – without stirring – over high heat for around 7 minutes, ensuring that it doesn't bubble over. (130°C/265°F – hard ball stage)
Very carefully pour the crème fraiche into your hot sugar mixture. It tends to splash and spit, at the beginning, so pour very slowly at first.
Stir the mixture vigorously until smooth, then continue to stir on med-high heat for around 2 minutes, until the mixture thickens. (120°C/248°F – firm ball stage) This will yield a soft, chewy caramel. To get a toffee-like consistency, continue stirring for an additional minute (143°C/289°F – soft crack stage).
Remove from heat and allow the mixture to cool for 2 minutes before adding the lemon myrtle and stirring to combine. Transfer the caramel into your pan and allow it to cool on the bench (1-2 hours) or to the fridge or freezer to set quickly.
Use the paper to lift the caramel out of the tray and a large, sharp knife to slice it into squares. To make slicing easier, you can heat the knife either by dipping it into a jug of boiling water or holding it for a few seconds over a gas stove.
Note: Caramels tend to 'sweat' in humid weather and lemon myrtle tends to exacerbate this effect, so it's best to store the caramels in the fridge or freezer, either in an airtight container, or wrapped individually in paper.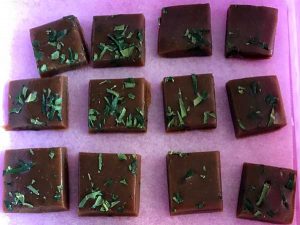 Original recipe credit
---