Amongst other things, I am, and have always been an AVID veggie gardener. It's a consistency in life that is a simple pleasure, a skill, a knowledge base and a way of life that feeds (literally) into the way we operate on a daily basis.
Growing is not a job for me, (that is something a little more pedestrian unfortunately) but it has always been in the background.  In the past I have been involved in community gardens, have created a crazy edible garden in a carpeted Kings Cross apartment (more on that another time) and am a follower of permaculture principles.
These days my exploits are far simpler, and involve seven raised beds that operate on a rotational system, along with citrus', blueberries and a bay tree. Still, our urban garden produces most of the vegetables that we eat, plus plenty of excess for sharing.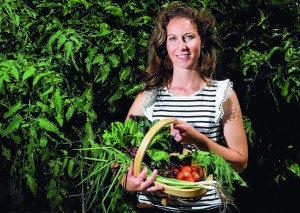 Really, Crop Swap Sydney developed out of an interest in heirloom varieties.  A desire to grow the interesting and unusual meant starting from seed. It's a first world problem, but the average seed packet often produces more than the suburban backyard can accommodate.  So when my promising little seedlings emerged from the hothouse, the majority suddenly had no home. Walking the neighbourhood in search of other edible gardens in need, I started thinking about a more effective forum for sharing excess produce.
Therefore, the Crop Swap Sydney community utilizes the existing social infrastructure of Facebook.  This allows members to communicate via an easily accessible and often instant, cashless market. It is a forum that allows growers to turn their excess into other edibles that they don't have available in their own gardens. Any gardener will attest to the fact that the 25th pumpkin of the season is far less exciting than the first.
At it's heart, Crop Swap Sydney is an initiative that aims to reduce food waste, promote food sovereignty and educate people about the origins of edibles and what goes into producing them.
For me, gardening makes me excited about food, and the humble growing process is just generally good for the soul. To those Crop Swappers who I have met, exchanged produce and tips with, thank you for being a part of a simple initiative that seems to be making a small difference. To those whom I am yet to connect with, may your gardens be abundant and I hope to eat the fruits of your labour soon.
---